Recently a lot has been made over the comments made by a politician in Manitoba where he described atheists as infidels in his smug Xmas message to the population. As one of those who he undoubtedly would have aimed his comment at had he known I existed I say… shhh, let him say it. It is no big deal.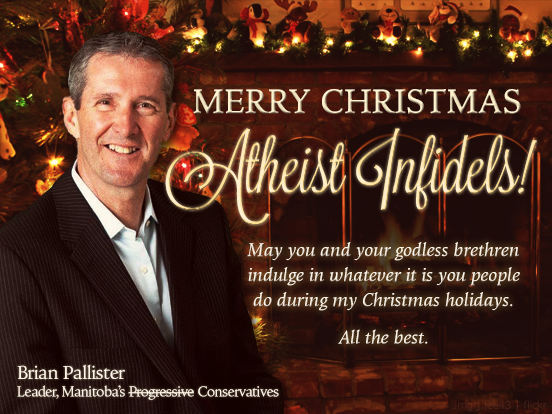 I love the terms barbarian, pagan, heathen, goy/goyem, kafir, PTS and all the other ways that the religious like to divide mankind up by. And the more devout the speaker the more I'll own it.
Why, because I always consider the source and the level of rationality that led to them using the term in question. The more they buy into their superstitions, the more they think the term burns for some reason. Religious people by definition believe despite the evidence, so it is reasonable to think that anyone who would joyously describe someone else in terms that they think are real zingers must really invest in this viewpoint. So why would I care what an even more deluded version of the delusional mainstream thinks will cut me to the quick? I don't.
I love all those terms and own them wholeheartedly. The fact that the faithful have had to stop and develop a whole new lexicon to describe others who don't share their version of woo just illustrates how insecure they are because others think differently then them. They clearly think more about those who don't believe than we who don't believe think about them and that's fine too.
If being an infidel means I'm not in the ranks of the superstitious – I'll buy that for a dollar.